To be sure just about all of us have P-51s and Spitfires and Hurricanes and Messerschmitts in the inventory, but the quirky or oddball kit also has its place in a collection, and the Monogram Ford Trimotor "Tin Goose" in 1/72 (probably more like 1/77 according to some sources) is one such kit for me. I just love it for its "ugly duckling-like" ungainliness, its all-metal corrugated construction, its visual presence, its rather short-lived but significant place in commercial aviation history (used by many of the leading airlines in the '20s and '30s), and even in American industrial history (can you imagine if a car company were to be involved in airliner production today?). And of course Admiral Byrd flew over the South Pole in a ski-equipped Trimotor in 1929, the first flight of its kind.
The kit itself actually has a bit of history too, given equal treatment in the instruction sheet to that of the real plane. It dates back over 50 years(!) to 1956, with a few reissues since then including "Heritage Edition" from the 1980s, which is when I think I picked up mine (l-o-n-g time on the shelf...). With molds that old, I was concerned about fit, warpage, flash, sink marks, and all that, but aside from some sagging in the starboard wing, it went together rather well, and rather symmetrically, much to my surprise. And luck, too, as I did not look forward to obliterating some of the leading edge corrugation to get a smooth joint, and while imperfections are visible, all in all I think I got an acceptable result. Checking reference photos online showed that there were some quite visible gaps between the top of the wing and the fuselage, so that relieved me of having to fill them in with putty. Side windows fit rather well, leaving the canopy as the worst fitting part, considerable gaps just about all around. Careful application and buildup of Micro Kristal Kleer gave a satisfactory result to a difficult situation.
The paint scheme was quite simple, Model Master aluminum being applied, but the uniformity of the coloration needed some relief by paying attention to the radial engines, and while not ultra-detailed, they do offer contrast, as do the propeller tips. The decals do as well, but a lot of care and attention was needed to apply them, mostly because the individual letters and numerals had to be carefully cut from the overall carrier film, which would have been impossible to make disappear against the corrugation. Fortunately, they worked out pretty well, despite being on the thick side in comparison to today's standards, the black registration numbers looking best, the red TWA letters being on the thick side and not that amenable to Micro Sol and Set. An overspray with Future and that was that.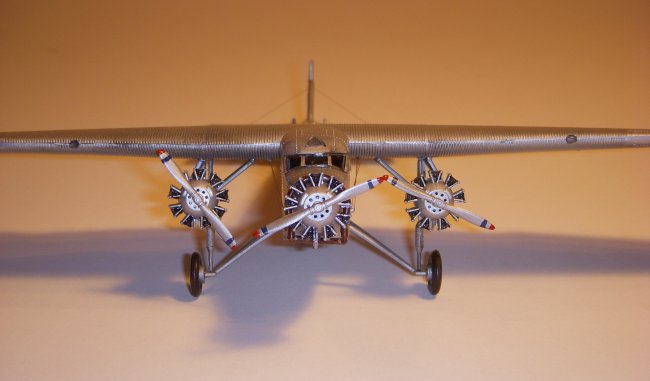 While the hulking appearance of the aircraft was an attraction to me, I felt in kit form it had to be relieved somewhat, some delicateness had to be introduced. This I did with four detailing steps, drilling out holes and filling them with Micro Kristal Kleer to replicate lights in the wings; drilling out the dimples on the face of each engine; cleaning up the tail wheel; and what I thought was most important, adding in control line rigging, which I hope is adequately visible in the photos. Again using online reference photos, I got a good idea how many lines there were, and where they ran to, and made suitable holes and attachment points. This was my first attempt at rigging using Maxima Chameleon 2lb. .005 line, and while the job was tedious and near-exasperating at times, and not all the results came out as I wished, I did learn a lot in working with this material, and I think the objective of adding some refinement to a generally monolithic appearance worked out.
While a much longer project than I thought (aren't they all?) I was happy to see this come together, from the biggest slabs to the tiniest detail. I hope you enjoy viewing it.
Harris Contos