Greetings from Colombia, the land of Juan Valdez!

This model recovery job I did some time ago, but I had not posted it, so I hope you enjoy this post.

It is a Tin Goose that is owned by the Colombian Aerospace Museum and was in a bad state, so its director gave it to me to be recovered and put back on display.

It is an old Monogram mold, so when the disassembly was done, when tried to separate the pieces very carefully so as not to break them; The transparent acrylic was very yellowish by the passage of the years and had lost some pieces, that it had to manufacture, more than all the propellants that had gone astray; The wheels were replaced by those of another kit.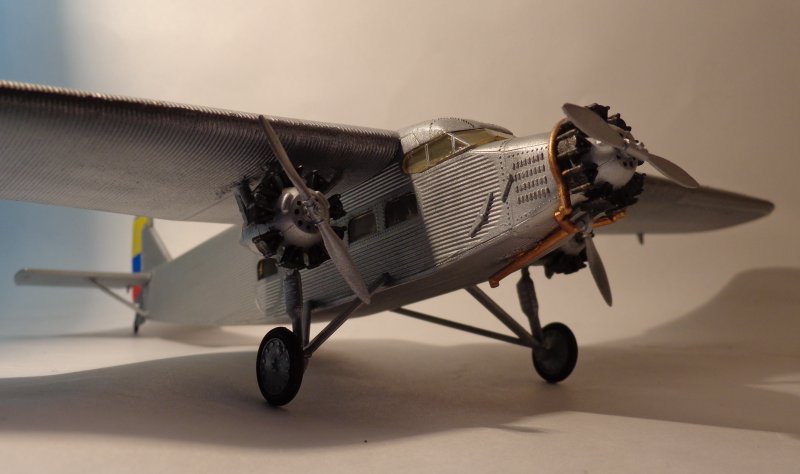 The transparent parts were submerged in the future to try to clean them, was achieved in part; The mold did not have many problems of assembly, so the putty that I used was very little.

In the Colombian Air Force were used 3 of these aircraft that had been acquired to a civil company, reason why some photographs that I could observe still showed the old insignia of the company covered with the national insignia.

The flag in the drift and the insignia of the wings were painted by hand and according as they had been established for the time; The rest of the painting of the airplane was made with airbrush taking a gray base and then applying the metallized; Colombia used them like that, they had no camouflage scheme.

As an additional information, in one of these aircraft, belonging to the aviation company SACO, Argentine singer Carlos Gardel died at Olaya Herrera airport in Medellín; The accident happened on the track with another Ford Trimotor that was owned by SCADTA.

I hope this work has been to your liking, again greetings from Colombia, the land of Juan Valdez!

Saludos desde Colombia, la tierra de Juan Valdez!
Tigre del Aire