Canberra B (I) Mk.88, Venezuela Air Force
Continuing with the commemoration in 2020, of 100 Year Anniversary of the Venezuela Air Force.

Venezuela was the first foreign country to obtain the formidable English Electra Canberra. Versions of bombers, reconnaissance and interdiction Canberras were used by the Venezuela Air Force (FAV) for more than 37 years.

The first six (6) Canberra B.2 aircraft bought by the FAV, arrived in Maracay Venezuela in April 1953. In August 1958 they obtained eight (8) Canberra B (I) 8 and three T.4 training. Over the years the FAV acquired new Canberras and upgrade existing ones, taking into service the following versions: B.2 / B.82 / B (I) 82 / B (I) 88 / T.4 / T.84 and PR.3.

In 1990 after 37 years of service, the last FAV Canberra was put out of operation.

The Canberra B(I).Mk88, No. 0240 shown in this post, was part of 8 (eight) aircraft bought by the Venezuelan Air Force (FAV) beginning in 1953. In 1977 this aircraft was overhauled by BE, modernized and converted to B.1.Mk88. This plane No. 0240 served at the airbase Lieutenant Luis del Valle Garcia of the city of Barcelona, Venezuela. In December 1986 the plane had an accident and crashed close to Naricual, a town 30 miles away from Barcelona.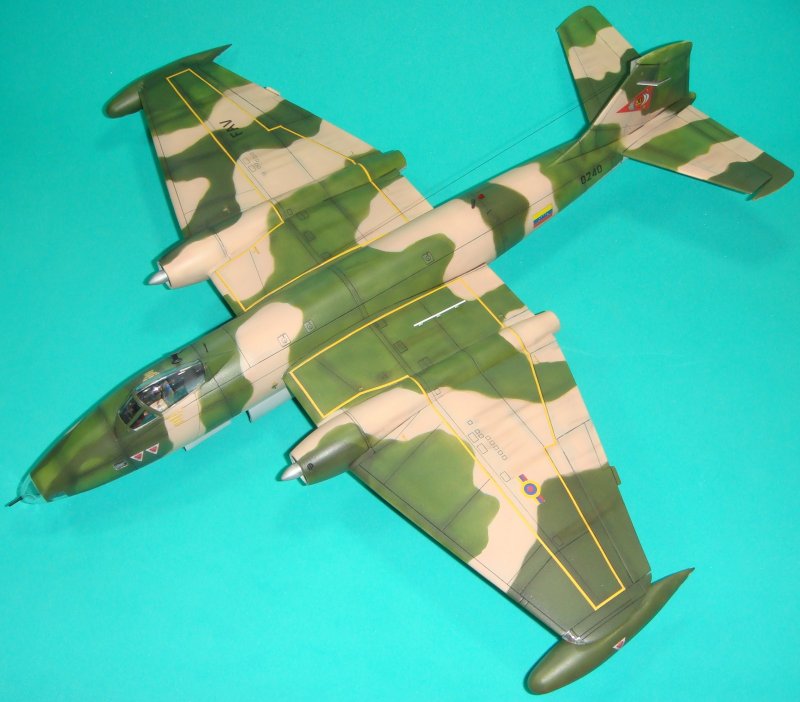 This Canberra (No.0240), was built using the Airfix model kit, English Electra Canberra B.1.8 in scale 1/48. The painting was done with Model Master (Testor) acrylic paint; mostly all decals are home made, but I also used some decals from the own model.
RSK48, Rafael