This is my second ARC A-7 Corsair build, using the same model maker and scale, for the reasons I stated in my earlier A-7A article.

I only spruced up the cockpit seat, using an aftermarket brand with PE straps and seat belts. My main reason for the build was the excuse to use a decal sheet from an A-7A Fujimi kit, one that displayed special markings to commemorate America's 200th anniversary, i.e. 1976. Yes, it's quite old and dated, but the decals were still in their sealed plastic wrap, so no yellowing affected them. Fujimi's decals, however, have a heavier film backing than some of the modern A-7 kits, so sealing them onto the completed model required a more industrial strength decal set. I'm sold on the Ammo/Mig Decal Fix #2: it laid down each decal with one application. Be sure, though, to confine the Ammo/Mig decal fluid to the decal, as it could leave a film on the surrounding plastic, requiring some touch-up painting to eradicate the whitish looking halo effect.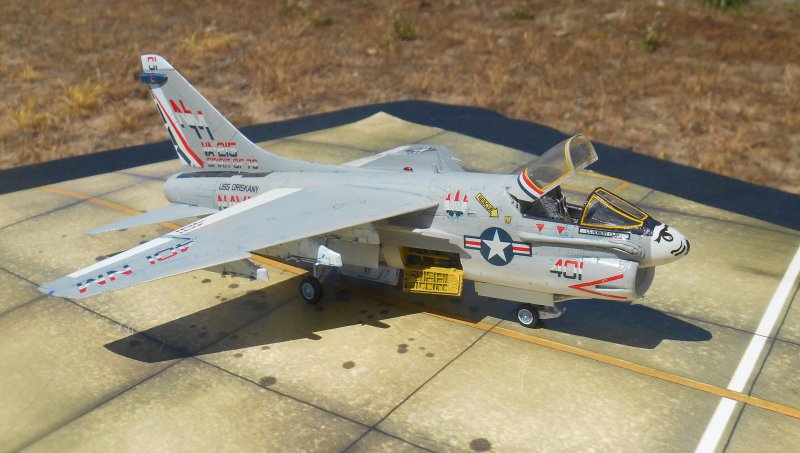 Finally, I went just a little heavy with weathering - using Black Detailer – as it was next to impossible to keep an actual aircraft in spotless condition for too long, especially if it was flown for a number of hours. ON a final note with paints, I had to hand create the owl beak on the nose of the model; the curvature of the model plastic was too much for even Ammo/Mig, and lancing it caused telltale overlap buildup of the film. I merely used an x-acto blade and cut out the decal nose area, using black enamel paint instead for the beak.
Carl Jarosz