The T-38 Talon is a supersonic jet trainer that first flew in 1959, entered service in the early 60s and remains in service today with many countries. The primary user is the USAF, and most of them have by now been converted to T-38C standard, with modern avionics etc.

This Trumpeter kit represents the T-38A version, and it is a gem. There is practically no flash, the moulds are beautiful, detail is fantastic, and engineering and fit is superb. In fact, while dry-fitting, I had difficulty in separating the parts sometimes after testing the fit. The cockpit is one of the most detailed I've ever built that doesn't use PE - the only PE is the seat harness and the rear view mirrors. The clear parts have that irritating mould line down the centre though, which needs to be sanded out. Decals are decent enough, and settled down well with Gunze solutions.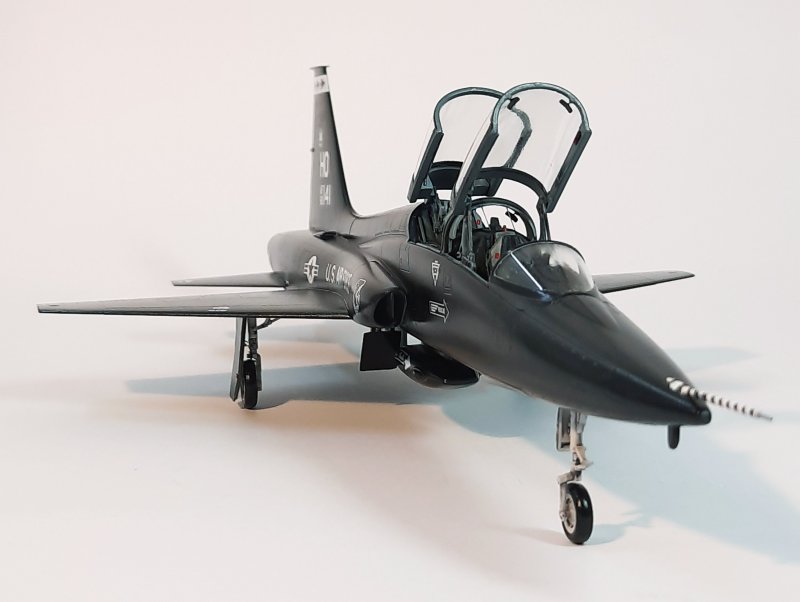 I built the kit with no after-market additions - frankly, the kit doesn't need any. I had a minor disaster with the oil wash and was on the verge of throwing away the kit, but decided to recover the situation, and a few hours of work redeemed it to a large extent. Some scratch building was done in the wheel wells and main gear, and in the cockpit, canopy and seats; and the pitot is fashioned from hypodermic needles. Finished in the box scheme, using Daler-Rowney acrylics.

Best wishes from India...
Bob TheDoc