F-16AM Belgium Solo Display
Due to COVID19 I'm staying at home, my job is stopped so I have plenty of time to do models. My last model after two weeks of afternoon work is a REVELL 1/72 Belgium Air Force F-16AM solo display in 2018 in France and I will explain why. I used a Revell kit which has parts to represent european F-16 versions (for example CARAPACE electronic protection system for Belgium F-16). This plane is a F-16AM FA101 from 2nde Wing based at Florennes AB. It shows a particular scheme for solo display used in various airshows across Europe. During each visit abroad, this F-16 wore the flag of the host country on the left elevator. So I used aftermarket decals (they are not from the box) come from a french manufacturer named Syhartdecal decal number 72-110. The decal sheet propose all flags where the dark falcon came in 2018 so as french I chose my country flag for left elevator and Belgium flag for the right. It came to time in France in 2018 Evreux AB in June and Cambrai ex AB now closed in September.
I follow the instruction regarding color Humbrol Satin black 85 for upper fuselage and Gunze grey H308 and white H1 for lower fuselage. With decals we have masks to help the painting job. Decals are very accurate and strong so easy to fit. I added slight juice on lower fuselage but as a demo plane is always clean. I opened the canopy to be more dynamic.
I added external smokewinders at the end of the wings. I used do by myself modified sidewinder missiles. The demo pilot Captain Dart has for callsign VADOR. So probably as me a SF fan and on the plane you can see Dark Vador helmet on underside stabilizators. Plus also a tiny drawing inside front gear door with an Empire battle cruise with stormtroopers helmets for each jet mechanical team members.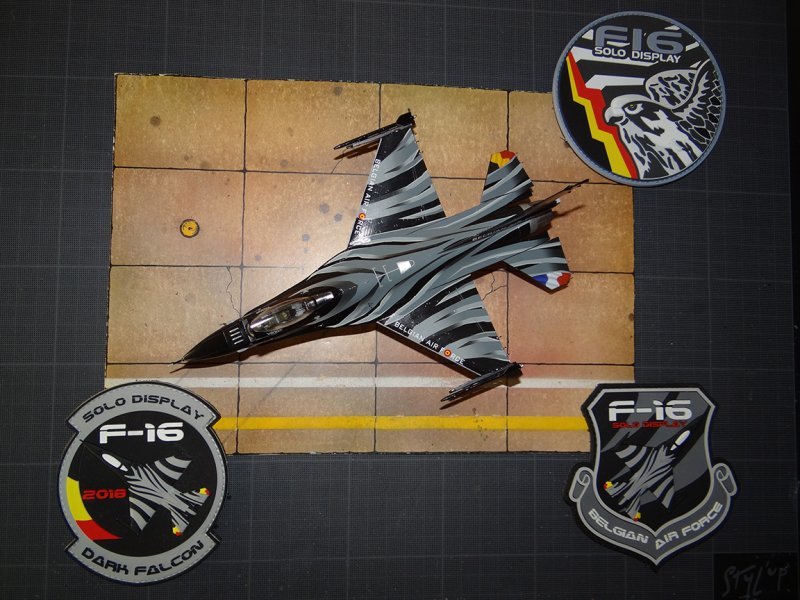 I hope your like my model and pictures and 2018 patches. I had the great opportunity to see this plane in action in 2019 at Orange AB (see pictures) with a different livery only the eagle shape on tails. I talked also with the pilot, a extremely sympathic guy when I bought season 2019 patches at his stand.
Dark side!
Jean-Charles Goddet