At the risk of sounding predictable, this is now my third ARC A-7 Corsair II build, using the same model maker and scale, for the reasons I stated in my first Corsair II article.
This one, though, is the second of my bicentennial decalled aircraft. In my first article, I mentioned that Fujimi in the 1990s came out with a few Corsair II kits with decal sheets commemorating our 200th year of being an independent nation. Nearly every unit then in active service – all branches of the service partook - had one of their aircraft painted in distinctive 200th year colors of their design, choice. I just came across the bicentennial decals for Navy units first, plus I had a few Corsair II kits on my shelf.

The only drawback to these commemorative aircraft is the lack of eternal stores and ordnance: they were to be show planes for a relatively short period of time, and wouldn't be used in military hotspots around the globe. Still, I used a degree of weathering, only because of the many photos I examined showed that it didn't take much time to collect dirt, grime and oil stains. The weathering materials were mainly Black Detailer and pastels.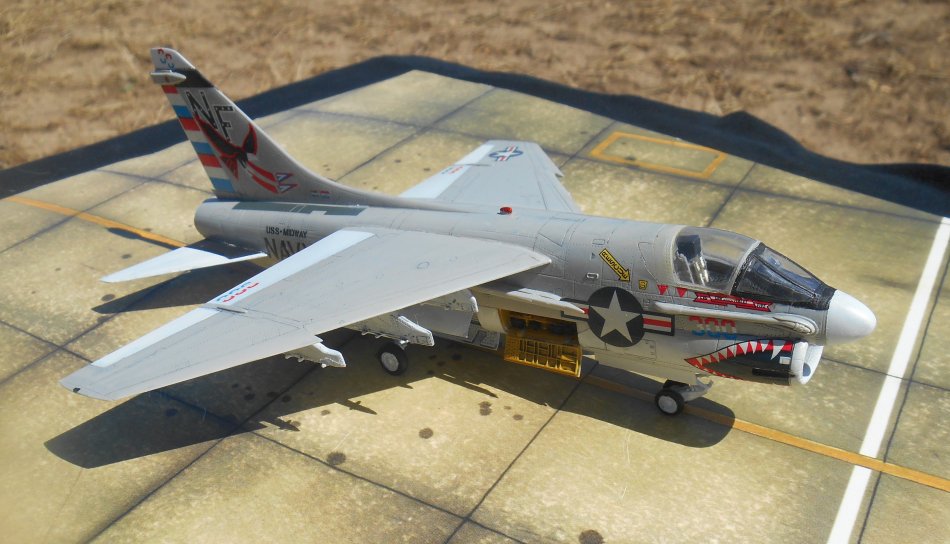 Per the usual, I also spruced up the cockpit by adding scratch built harnesses and seat belts.
Carl Jarosz