My build represents AV-8B BuNo165580 of VMA-214 based at Ahmed Al Jabar, Kuwait during Operation Iraqi Freedom in 2003.
Though one of the best Harrier II+ kits available, it does have its shortcomings. The most complex part of the build was associated with the multiple joins between the forward and aft fuselage sections. This required keeping the forward portion of the aft fuselage unglued to properly align to the intakes of the forward fuselage while also mating part B3 (contrary to instructions). The alignment was assisted and secured by installing additional braces of tubular styrene within the front portion of the rear fuselage. Once this assembly was permanently joined, strip styrene, filler and careful sanding were used to create smooth seamless joins followed by some rescribing as necessary. Also contrary to instructions, the LERX was joined to the wing assembly before affixing to the fuselage which resulted in a tight fit with minimal filler.
Enhancements added to this kit are described below:
Aires AV-8B Harrier Wheel Bays (4201)

Aires AV-8B Harrier II Plus Cockpit Set (4199)

Eduard AN/AAQ-28(V) Litening II FLIR/laser designation pod (648237)

GBU-12 laser-guided bomb from the 1/48 Hasegawa Weapons Set B with scratch-built ablative coating

Superscale AV-8B+ Harrier IIs VMA-211, VMA-231, VMA-214, Iraqi Freedom decals (48-927)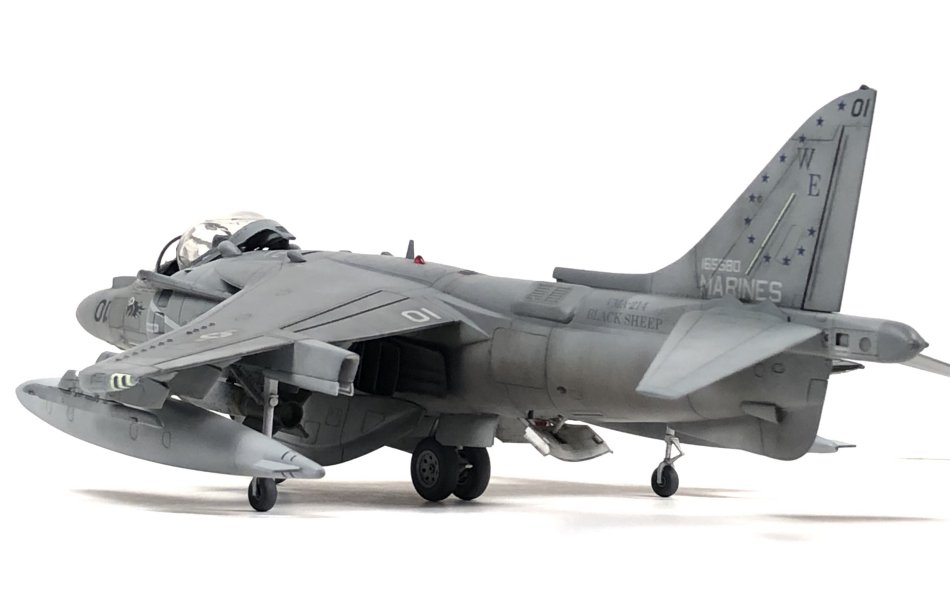 Camouflage was the three-toned scheme of dark gull gray, gunship gray and light ghost gray. Weathering was applied using various tints/shades of the base colors, color modulation, oil filters, pin washes, and pastels. Everything was sealed with a 60/40 mix of acrylic flat clear and thinner.

Enjoy!
Eric Hargett