F4U-1D Corsair USMC Late 1943
This WWII prop build was a refresher for me. It allowed me to concentrate on build and detail aspects that were characteristic of WWII in the Pacific Theater. I felt I was getting into a rut building a certain type of aircraft, from a certain period, from a certain country.
I'll not belabor description of the Corsair to you regular visitors to ARC; you're well versed in the major aircraft types. Suffice it to say that this model depicts what I feel was a typical F4U that had been on a number of missions in late 1943 in the Southwest Pacific, as evidenced by the 'star and bar' with a red outline. This aircraft marking was short-lived, only appearing in early 1943, and by late '43 and especially early '44, the usually seen 'star and bar' with blue outline was applied to all US aircraft, in all war theaters.
The model depicts a US Marine unit in action at that time (I failed to research the unit, but it can be done by anyone interested). Carrier-borne Marine Corsairs were quickly relegated to land bases after suffering astronomically high rates of carrier landing accidents, due to the poor forward visibility because of the long engine length and gull wing design. Plus the F4U was a "hot" aircraft, with very high performance features, including landing speed on a rolling, pitching carrier.
I have to confess that I had this model in nearly completed state for over a decade; other kits kept catching my attention, so I felt guilty and decided it time to give it well deserved life on my shelf. The Tamiya kit used was the highest standard F4U kit on the market when I bought it. I contend it still holds its own to the new competitors since then. I only purchased an after market cockpit seat for my build.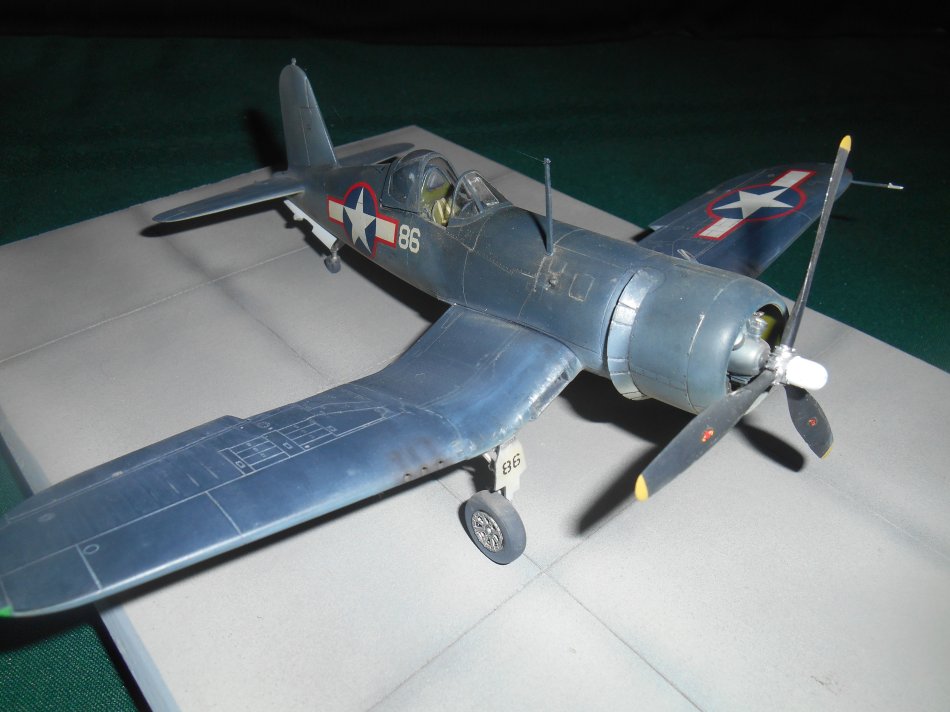 Finally, it seems no two F4U-1D Corsair photos I consulted looked alike; each had distinctive wear, but all tended to look as if they were nearly worn out and ready for overhaul, or the scrap heap. I therefore erred on the well worn side. I used a mix of oil-based washes, pastels and mechanical pencil for my wear patterns. I also carefully chipped away on the upper wing 'star and bar' marking, to more accurately reflect the effect of hours in the air, heat, humidity, and the sun's ultraviolet rays on painted metal surfaces. (The lower markings were less affected, as they were in the shade of the wing.)
Carl Jarosz