In 1943, Lewis H. Glaser, a California entrepreneur founded a company that a few years later became Revell. In recent years Revell has experienced many ups and downs, including change of ownership and bankruptcies. But throughout the years, many modelers began their hobby building these wonderful model kits.
My first model built with my dad in 1957 was a 1:122 Revell Douglas DC-7. Along with my modern kits, I continue to collect and build these vintage kits into presentable scale models. No, they are not the exceptionally accurate kits most modelers demand today, but they represent the age when it all began. Although there have been many other model companies, Revell, through brilliant marketing and sales strategies, created the modeling hobby that we enjoy today. And by no means is the hobby dead if you are following ARC!
The Models
These two Revell 1:32 kits to me aptly represent the period in the 60s when Revell, still under Glaser's direction envisioned and released the 1:32 series that Glaser referred to as, "lots of detail" model aircraft kits that began the trend of more accurate and historically correct models. Some may think today that these are crude toylike models. But compared to what came before, they were amazing and lusted for at the time! These 2 models released in the late 60s epitomize the release of large and less toylike model aircraft kits.
Historically, side by side the extreme difference in size of these adversarial aircraft. reflects their designer's philosophies. Republic's massive 10,000 lb. beast with 8-.50 machine guns compared to Messerschmitt's small and lightly constructed 5,000 lb. Bf109 with 2- 13mm machine guns and 20mm cannon, that although were effective, were no match for the amount of hot metal the Thunderbolt could deliver. Both were formidable weapons, but personally given the choice, I'd take the P-47.
Both models were built out-of-box except for some minor touches such as True Detail wheels, pilot figure from the scrap box and rounding of the cowling opening to a more accurate shape on the P-47. The Bf109 received a centerline tank from the spares bin and nylon thread radio antenna.
The P-47 was painted with a 50/50 mixture of Alclad II chrome and polished aluminum and Model Master olive drab for the antiglare panel. Decals were from the spares bin.
The Bf109 was painted with Vallejo Model Air AV, gray-green and gray violet over pale blue acrylic paint. The original kit decals went on perfectly with warm water and patience! Both models have won awards in large scale category.
If you remember building these models in the day and still have some in the back of your stash, dust one off and build it and reminisce the time you began your hobby. And if you've never built one, pick one up in a vendor room or on-line and experience what the hobby was like when it began. These are great kits for a child or adult newbie to the hobby and they are inexpensive and simple to build.
I have suggested before and will reiterate, we should consider a "Vintage" model category.
I hope you've enjoyed this journey back in time.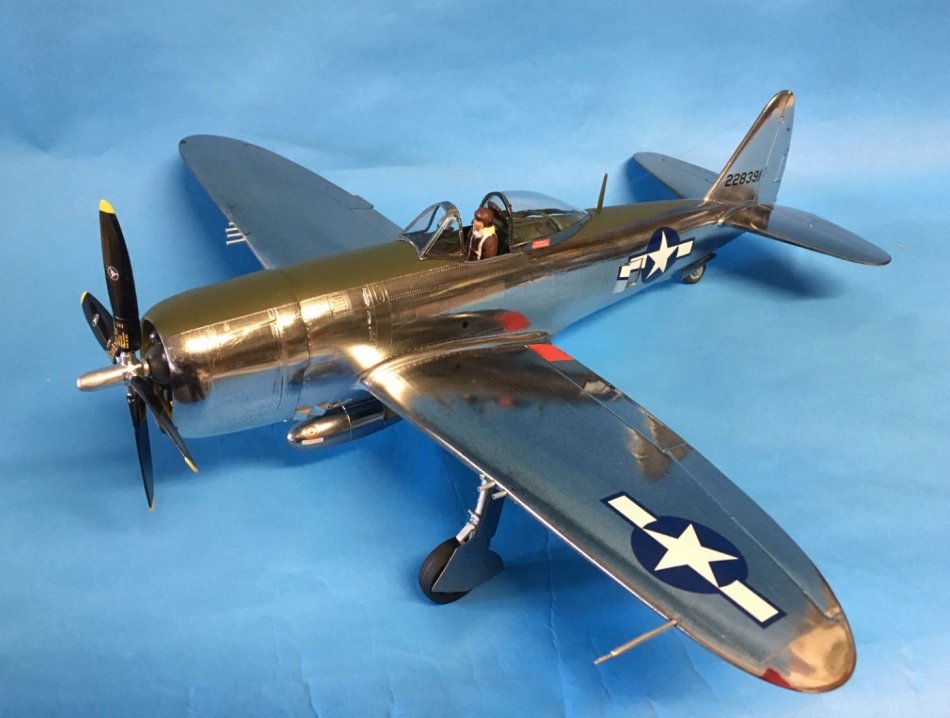 In Memory of Lewis H. Glaser-Revell Inc. Founder
April 27, 1917 – September 12. 1972
H. Davis Gandees