T-33A 5th FIS "Spittin Kittens
Over a year and a half ago, I submitted another Great Wall Hobby (G.W.H.) T-33A build, which one can find in the Gallery section. Since then, G.W.H. issued a "late version" T-33A kit, with wing tanks that, sadly didn't look like normal extra fuel tanks to me. I built this kit, sans wing tanks, because it had such flashy decals, one of which I used to show the 5th Fighter Interceptor Squadron livery in the late 1950s.

One can read my past praises for how well G.W.H. made the T-33A kit; this was no different. I must again point out the extras one will get with this kit, for example: one can pitch the rudder to add more natural look; the flaps can be assembled in the retracted (down) position, reflecting a recent landing; the kit comes with a boarding ladder that was fabricated especially for this type of aircraft; the cockpit seats that are accurate for the aircraft and time period. And one can add the unusual looking wing tanks if desired.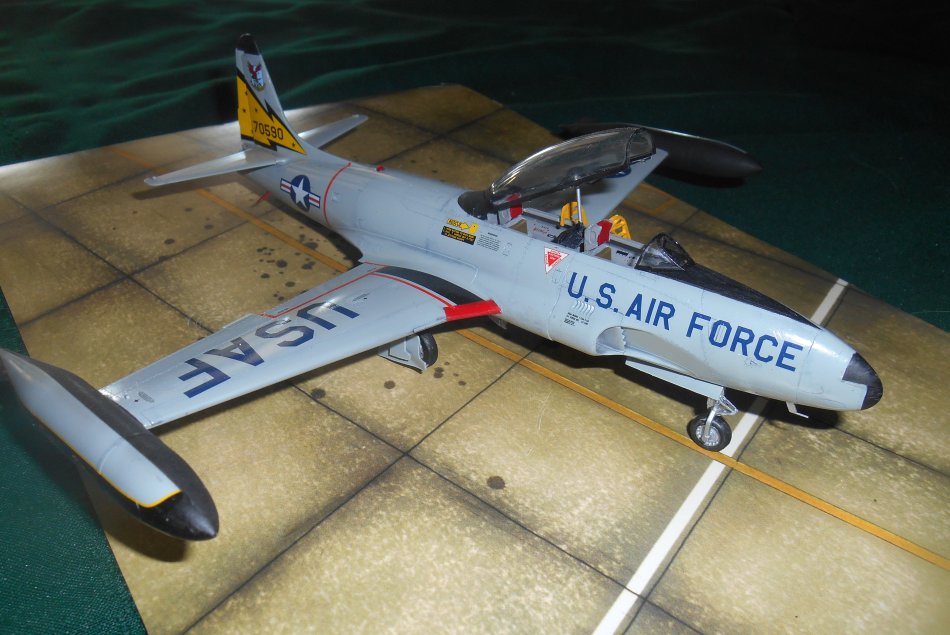 I added minimal weathering, in the form of pre-shading in the recessed panel lines, as these aircraft were well maintained. I barely had to use any putty, but go heavier than stated on the instruction sheet for nose weight to ensure this model stands on its tricycle gear unaided.
Carl Jarosz