This is my completed 1/144 Minicraft B-24 Witchcraft, built for a close friend. His uncle flew Liberators in the Pacific during WWII and didn't make it home. My friend and his brothers took a flight together on this aircraft operated by the Collins Foundation to honor their uncle.

This model was built as a going away gift for my coworker and close friend. There are some familial ties to the B-24 in WWII as well as Witchcraft that give this plane personal significance for him.
This Minicraft kit is an absolute dog, showing its age in lack of detail, accuracy, and parts quality. I designed and printed replacement engine cowling, engines, and turbochargers for this kit. Additionally I made vacuformed observations domes and scratchbuilt or heavily modified the existing kit turrets. The rear of the fuselage has a scratch built interior built from photos.
This was my first time using Bare-Metal Foil Co., which I put around the engine exhaust. This was also my first time using Mission Models US paints. With some practice, I favor them much more over Vallejo and am switching my paint library over to them going forward.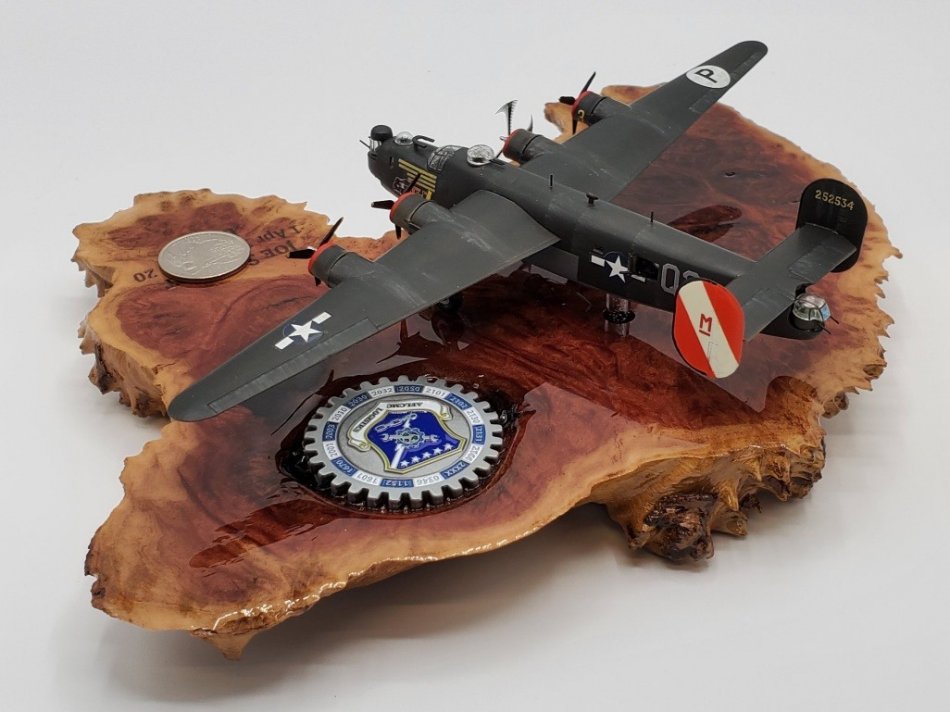 The beautiful decals were procured from Draw Decal capturing the artwork and sponsor names of the real aircraft. https://www.shopdrawdecal.com/ProductDetails.asp...
The base was made by me from red malee, and as always, the engraving was done by OpenHaus Gifts & Engraving.
I hope you enjoy this special build!
Mike Harris