Started in December, this is the last of 4 Harriers completed in January. There are 5 more Harriers left for a "next round"...
Subject: Ski Jump
Model: Armada Española - VA.1 Matador - 008-10
Manufacturer: Airfix
Scale: 1/72
https://www.facebook.com/media/set/.

AV-8 S were delivered to the Spanish Navy on 4 September 1976. To receive them, the "8th Escuadrilla de la Armada" was created September 29, 1976. At 13 units, 11 AV-8 S and 2 bi-place TAV-8 S, were transported from the US to Spain on the Dadalo aircraft carrier in November 1976.

Originally used the identification on the marine fuselage was subsequently changed to "ARMADA".
These units were in service until the end of 1996, when they were replaced by the modern AV-8 B Plus despite still having a few more years of useful life ahead.
Targeted 301th Squadron of the Royal Thai Armada, Fighter / Attack vector of the Group Boarded on the new Spanish construction Chakri Narubet aircraft carrier.
The sale of the aircraft carrier opened up the possibility of purchasing these units by Thailand, not without complicated negotiations.
The agreement reached included the supply of the aircraft, seven monolugar units and two bi-place, plus spare and training for both pilots and maintenance technicians.
The last flight of the 8th squadron took place on October 21, 1996, with the commandos the Captain of Corbeta Flethes and the Teniente de Ship Sendagorta on 01-808, on an instrumental training mission.
In total, the squadron registered a total of 26 hours of flight while of the 64 navy pilots, 46 were destined for this unit.
The new Harrier led to 11 8th squadron riders, deactivated on October 24, 1996, passing to the 9th squadron.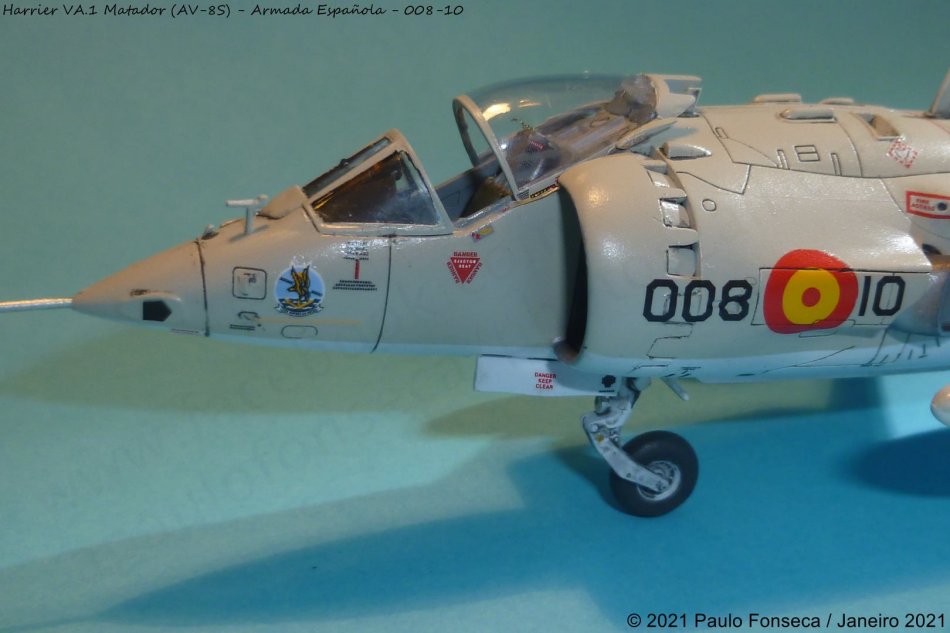 The 01-008 subsequently changed to 810-01 was lost in an accident on May 13, 1994 while participating in the Dynamic Impact maneuvers near Majorca. On that day 16 km south of Cabrera, a fire made by the pilot, lieutenant of the ship Federico Garc íaa Castro, to eject, falling into the water and being rescued in a few minutes by an AB-212 who immediately took off from Prince of Asturias upon receiving the rescue request from the pilot.
The Spanish aircraft carrier was then 40 miles south of Mallorca

For general data on AV-8 AV-8 S see text published on RAF album - Hawker Siddeley Harrier GR. 1-XV 785.
The Harrier AV-8 S / AV-1 Killer in the Spanish Navy
Paulo Fonseca
Click on images below to see larger images