The MiG-17 'Fresco' was the successor to the MiG-15, and was visually very similar. It was designed for transonic performance, and was the first Soviet fighter to use an afterburning engine. On the drawing board in 1949, it was produced from 1951 and entered service in 1952. Though too late for the Korean War, it saw service in Vietnam where it performed reasonably well. It was used by 20 countries in Eastern Europe, Africa and Asia; and remains in service even today in some parts of the world. The Chinese built versions go under the designation J-5. Over 8200 MiG-17s of all variants were built in the Soviet Union and an additional 2600+ in Poland and China under licence.

This Hobby Boss 1:48 kit is of the MiG-17F 'Fresco C' – the first version with the VK-1F afterburning engine. The kit is nicely detailed, and includes a nicely detailed engine too, which sadly remains completely hidden once the fuselage is closed. I built the model OOB, with a bit of scratch-building (pylon braces, pitots, seat harness and rudder pedals, brake lines etc) to make it more accurate. The smaller parts mostly fit nicely but many of the major pieces have large gaps/ misalignments/ size mismatches, so a fair bit of shaping, trimming, filling, sanding and re-scribing lost details was involved. Though the instructions don't mention it, a lot of ballast is needed to avoid making a tail-sitter.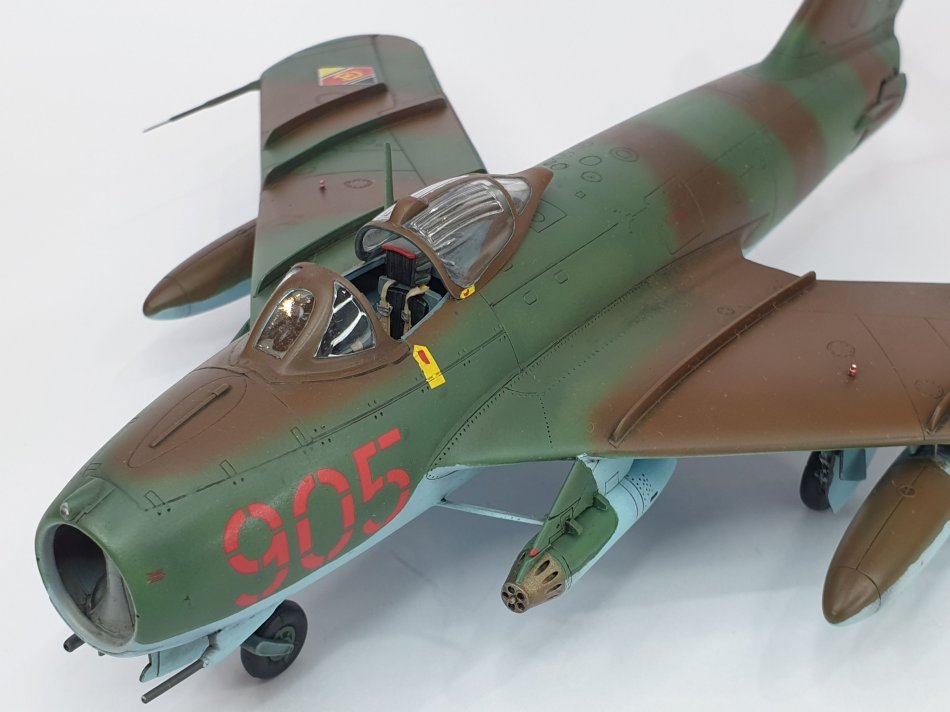 The kit provides 3 marking options – Soviet, North Vietnamese and East German. The first two are NMF and I didn't want to do that, so I went for the GDR version. East German Air Force MiG-17F '905' was manufactured in Poland, and came to JG 1 'Fritz Schmenkel' in Cottbus in June 1957. From 1963 she flew in JG 8, and from 1972 to 1985 in JBG 37 'Klement Gottwald' in Drewitz, which is the period represented in this model. Even cursory research showed that the camouflage scheme in the instructions was inaccurate for 905 and the colours too seemed questionable, so I used the kit decals but went with the scheme and shades in the various photos available on the net. Paints used were Daler-Rowney and Vallejo.

My first build of 2021, best wishes from India...
Bob TheDoc
Click on images below to see larger images