I started assembling this kit over a year ago, but hit one frustration after another between parts and instructions. But we need to go back over a decade to fully understand.
I had the opportunity to attend the IPMS National Convention in 2009, which was held in Kansas City, Missouri. At that event, TwoBobs, which makes a line of fine decals, apparently went in agreement with Special Hobby to issue a limited run kit of the US Navy trainer T-2C Buckeye, with special TwoBobs decals, commemorating 75 years of naval aviation. I had to buy the kit, but as I said, when I began this project, I almost went hostile from frustration. It took me until now to complete this one.
First frustration: Special Hobby kits are not very user friendly, as the parts on sprues do not have a part number beside them; one has to look at a sheet of the instruction booklet to see how the parts on sprues are arranged, with respective part numbers.
Second frustration: Forget those part niceities, like parts having locator pins to ease mating with another part. Youíll have to use your eyes and manual dexterity to build this model.
Third frustration: This kit has mixed media parts to challenge even the most experienced modeler: traditional injection molded plastic; clear plastic; P/E; resin (polyurethane); and vacuform (canopy) parts are all present, each with their own requirement for gluing and proper orientation, location. The instruction booklet has sketches where the parts are to go, but is sparse with details Ė which will have to be suffered through during assembly.
Fourth frustration: The weakest area of this kit was the landing gear. In a word, itís F-R-A-G-I-L-E! For example, the cross landing strut section of the main landing gear needs to be trimmed to fit into the width of wheel well . . . that one had to fabricate earlier in construction. One has to file and fit multiple times to ensure adequate contact for gluing: too much filing will leave an air gap that prevents the gear from being secured in place against the two walls of the landing bay; too little filing will put stress on the wheel well walls, to where the wall plastic part could separate from the rest of the wheel well bay. For another example, thereís a cross member support/brace to hold the inner main landing door on each side of the fuselage open: itís made entirely of resin, and has the thinnest diameter Iíve come across yet. Getting that part off its resin runner without breakage proved impossible for me. I practically had to use an electron microscope and artificial hands to reattach broken sections of resin material to the mating brace.
Fifth frustration: Forming, fitting, securing the large vacuformed canopy to the model. This canopy came in one large piece. To build a model with a raised canopy, sawing and extra trimming of the resultant two pieces were necessary. It took considerable attempts of trimming and filing to get the final needed state. Before vacuform material removal, I strongly recommend making a canopy work support, in the form of playdough or similar material. Place this inside the canopy to full depth, and ensure contact along the entire inside perimeter. When trimming, use iris scissors to get the closest, cleanest cut possible, without damaging the part.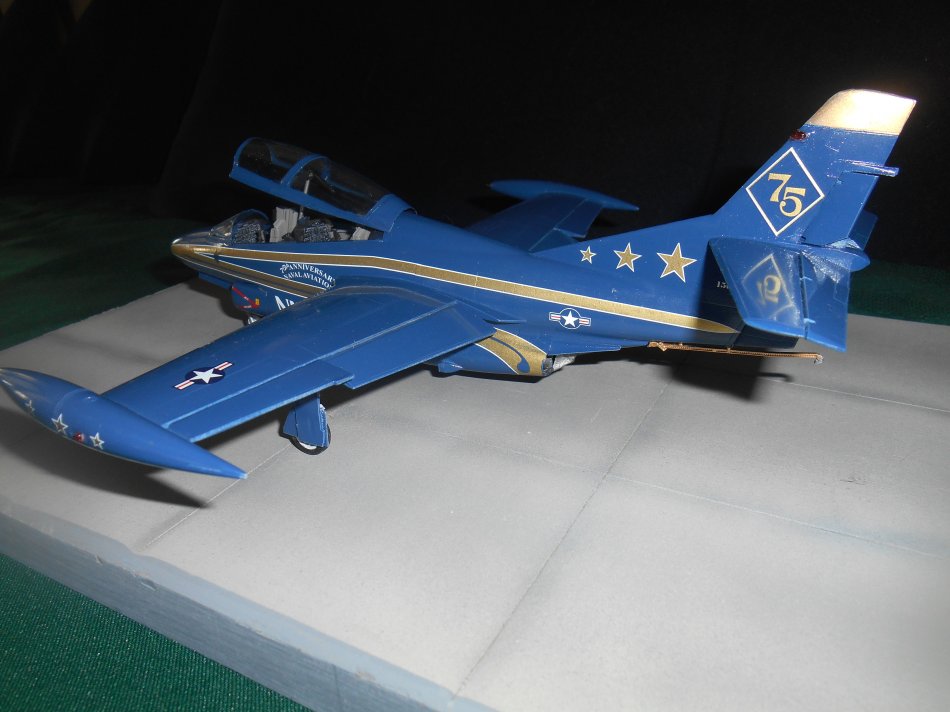 The decals, as said, makes this model worth building, but even they needed extra care. The TwoBobs decals has very thin carrier film; it will separate from the backing in water in two blinks of an eye, and thatís no exaggeration. Leaving it in water any longer will result in a floating decal, which can easily break or wrap around itself if fished out without its backing. The usual lancing with an x-acto knife was needed when the long strips bent around compound curved surfaces.
Carl Jarosz