This photo etch detail set from Eduard is part of the Zoom series of photo etch sets and is available directly from Eduard Model Accessories. This is an exterior detail set designed for the 1/48 Revell Ju 188. The parts include some parts for the landing gear bays and doors, gunsights, engine detailing for 2 engines, flight control surface actuators, wheel details, landing gear details etc.
There are 3 pages of instruction in the usual line drawing format that Eduard is famous for and which are so easy to follow. You will be required to cut away detail on the kit parts to fit these photo etched parts, but this is indicated on the instruction sheets.
You will be required to fold the photoetch in this set, but if you have one of the Hold & Fold photo etch benders from The Small Shop, then this will be an easy process. They have a variety of benders for sharp corners as well as rounded corners and in many different sizes.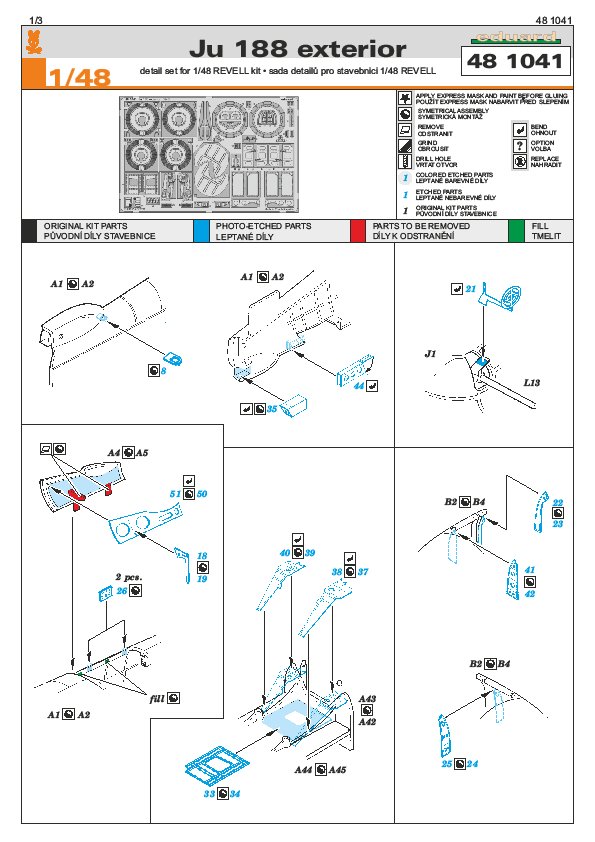 This exterior detail set focuses very effectively on the critical areas that will show the best on your finished Ju 188.
You can buy this photo etch detail set and thousands of other items directly from Eduard Model Accessories.
Steve Bamford